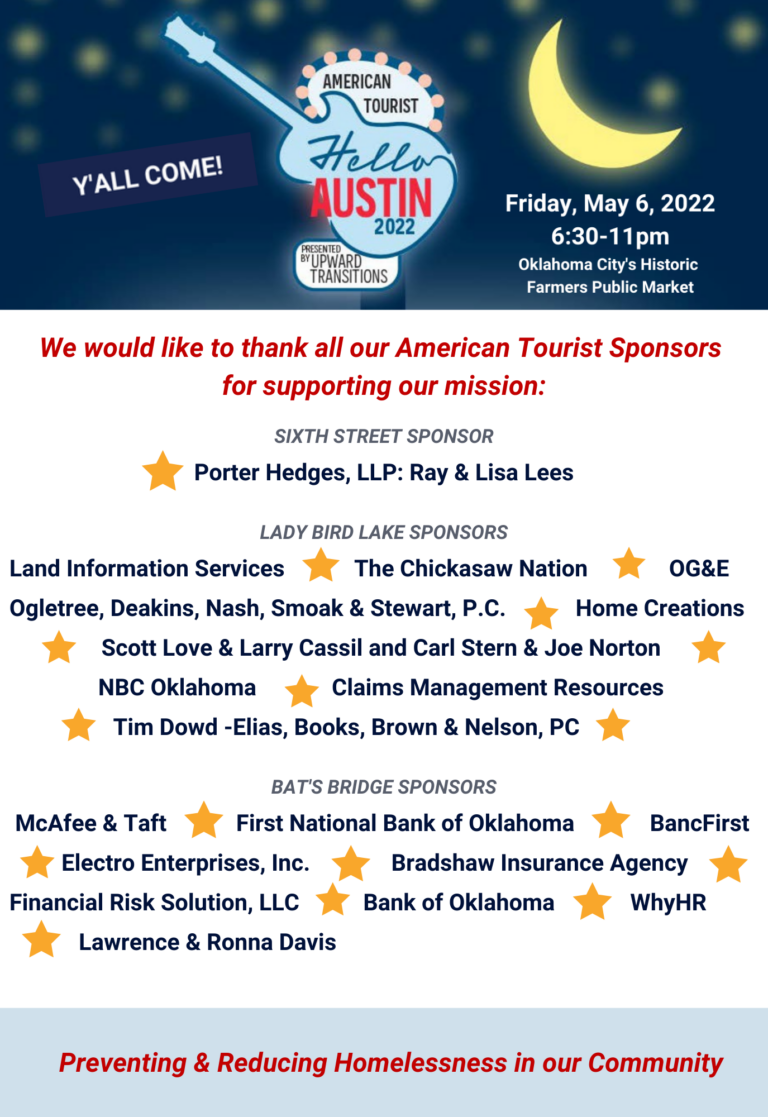 American Tourist 2022
Hello Austin! 
Upward Transitions appreciates all our Supporters, Sponsors, Auction Donors & Businesses, Fund-A-Cause Donors, and Volunteers who helped us set a new record of raising over $105,355.00 at an American Tourist event!
Upward Transitions would like to express a Very Special Thank You to  John & Meagan Cannon, Shawn Carey, Brian Preston, Madison Moody, 2nd Street Wine Co., CNS Productions, DRIVE Band, Eventures, Oklahoma City's Historic Farmers Public Market, Fore Wheeler Golf Carts, Graftec Communications, and Love's Travel Stop & Country Stores.
We appreciate our Dining Sponsors for this special evening:  Earl's Rib Palace, Francis Tuttle School of Culinary Arts, Hideaway Pizza, Uptown Grocery Co., and Cannon & Associates.
We appreciate these wonderful Live Auction contributions from: Amanda Digney, The Fudge Family Trust, Hideaway Pizza, Home 2 Home LLC, Mr. Bob Howard-Midtown Renaissance, Tim Kenney Fine Art, Ludivine, Lyric Theatre of Oklahoma, The Skirvin Hilton Hotel, Amanda Watson Photography, Wilshire Gun, and 21c Museum Hotel.
Many thanks to our Raffle Package donations from: Captain Craig Bilodeau, Joe & Dana Giroux, Flip's Wine Bar & Trattoria, and Karla Stinnett.
If you are interested in sponsorship opportunities for American Tourist 2023, please call 405-232-5507 x113 or email Karla Stinnett at kstinnett@upwardtransitions.org