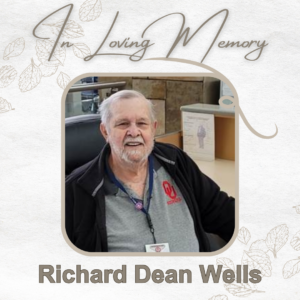 It is with deep sadness I tell you our sweet Richard Wells has passed away. He served as a Travelers Aid and American Tourist Volunteer for 13 years. He had a big heart and was always willing to pick up empty shifts and help out in any way he could. Best of all, he had a warm smile, wonderful laugh, and gave great hugs! Richard will be missed by all who knew him. Please keep his wife Linday and their children and grandchildren in your thoughts.
Periann Pulliam
Chief Executive Officer
Upward Transitions, Inc.
Richard Dean Wells Obituary – Oklahoman
Richard Dean Wells, Son of Glenn P. and Florina B. Wells, born November 6, 1936, in Enid, Oklahoma died October 15, 2023, at his home in Oklahoma City. He retired from the State of Oklahoma in 2000 after 38 years of service. He is survived by his wife of 66 years Linda, 4 Children, Brad and partner Jeff Bucklew of Seattle, Wa.; Rich and partner Annie Decamp of Aspen, Co.; Lynn and husband Mike Finley of Oklahoma City; Steve and wife Maggie of Palm Harbor, Fl. Also survived by 9 Grandchildren and 10 great Grandchildren. A celebration of Life will be held Thursday October 19, 2023, at 1:00 pm at Buchanan Funeral Home, 8712 N. Council Rd., Oklahoma City Ok. 73132. In lieu of flowers donations may be made to St. Jude Children's Research Hospital.